TikTok Canada acknowledges and celebrates Indigenous Peoples' traditional and contemporary ties to their lands, and we are grateful to share this space. We thank Indigenous creators, artists and small business owners for being a part of the TikTok community, and for trusting our platform as a space to share your stories, your knowledge, your culture and your joy.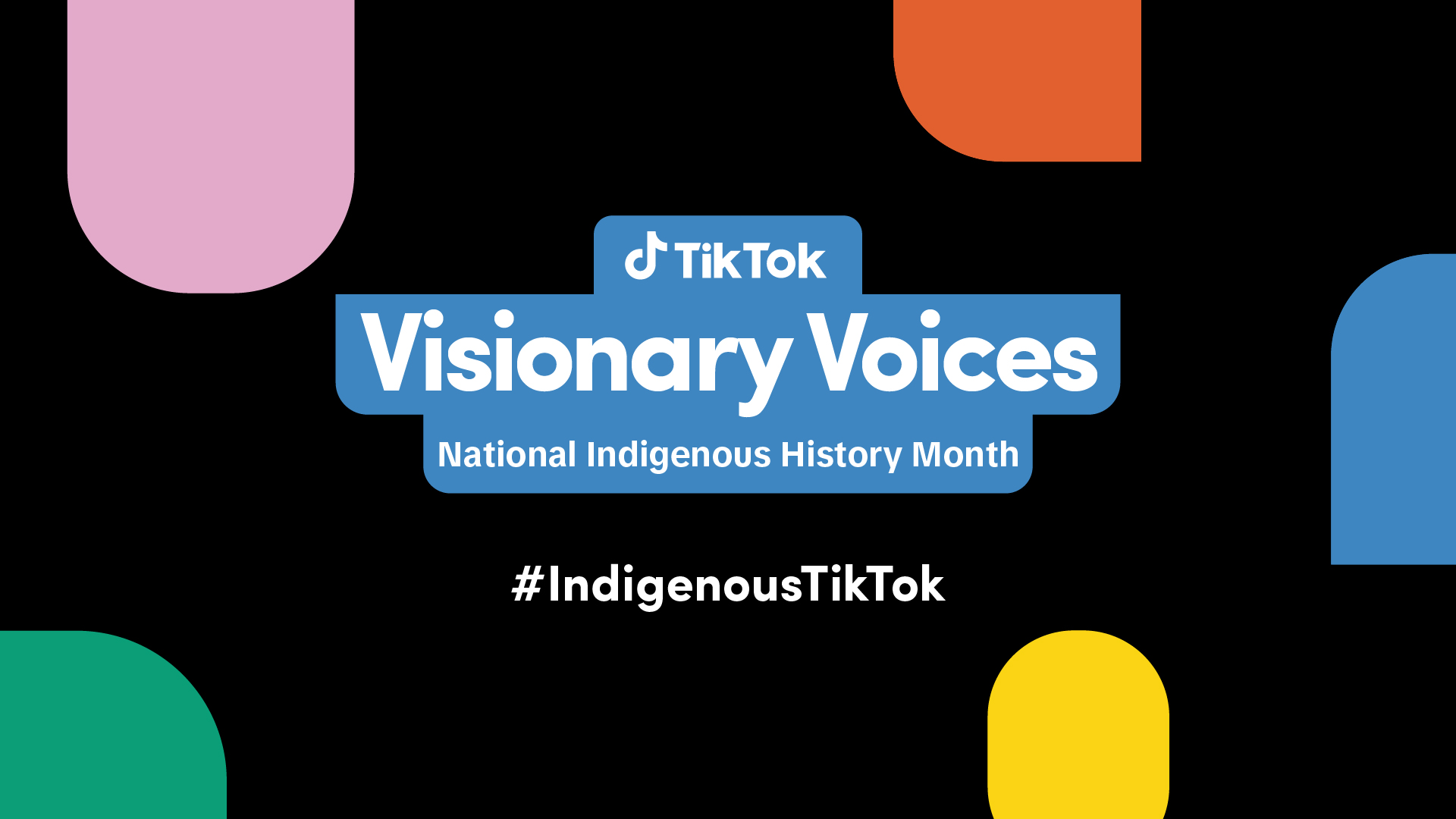 From reclaiming their identities through first-hand storytelling to advocating for Indigenous youth, to sharing the joy and resilience of their communities, #IndigenousTikTok creators infuse TikTok's Canadian and global community with authenticity, creativity and learning. This June - and year-round - we're committed to recognizing and highlighting the stories of the Indigenous community by amplifying and supporting the voices who continue to tear down barriers and misconceptions, and use their platform to share the beauty, history and heritage of the First Nations, Inuit and Métis peoples.
In honour of National Indigenous History Month and in celebration and recognition of our #IndigenousTikTok community, we are introducing our first-ever #IndigenousTikTok Visionary Voices List, celebrating creators and small businesses making a positive impact both on and off TikTok. In addition, we'll feature an in-app #IndigenousTikTok content hub that will spotlight Visionary Voices and other members of the community, celebrating inspiring Indigenous voices and visibility.
Meet Our 2023 #IndigenousTikTok Visionary Voices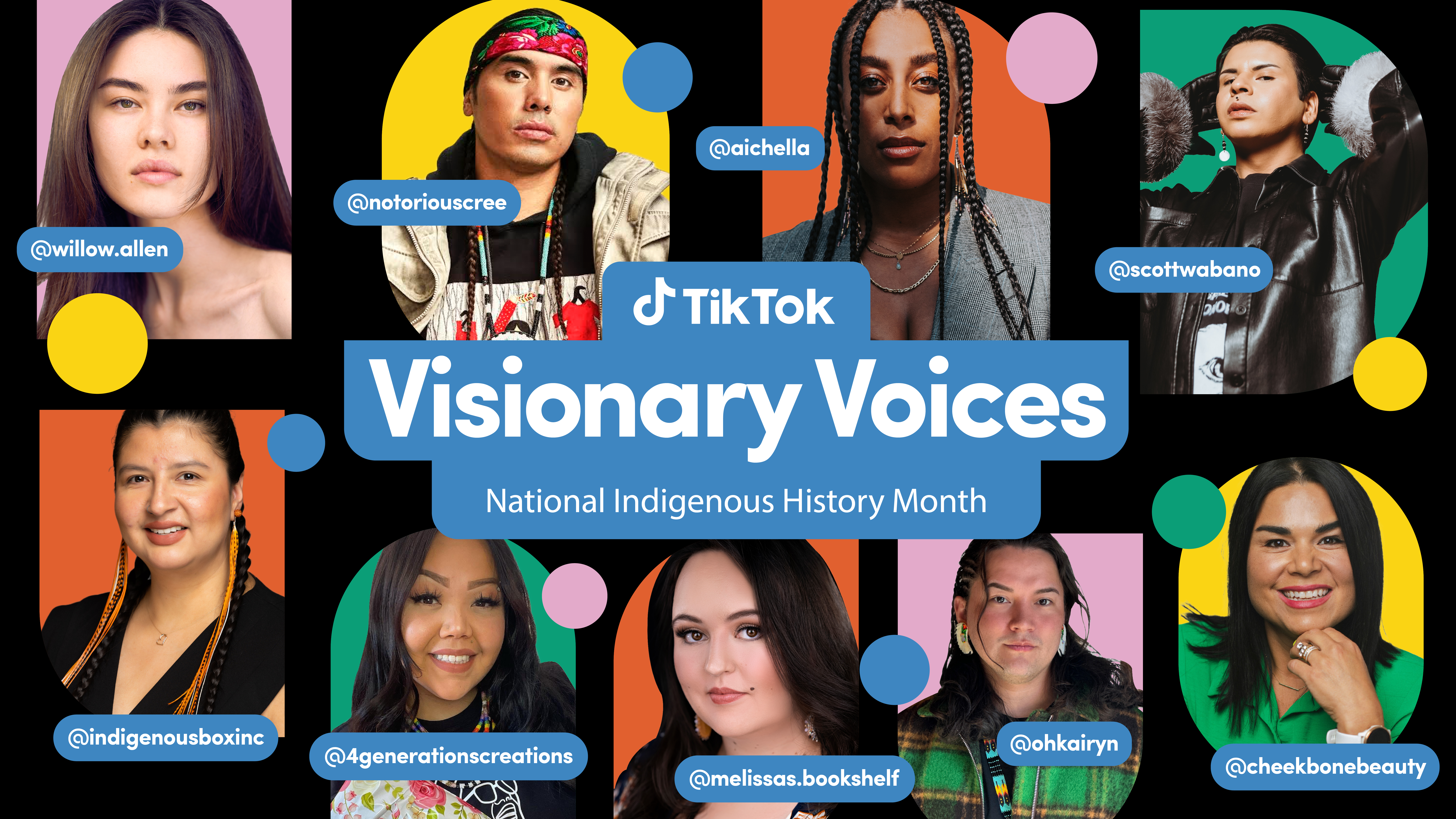 We're excited to continue expanding the ways we celebrate the impact of this community with our first-ever #IndigenousTikTok Visionary Voices list, recognizing those making an impact both on and off the platform. The 2023 #IndigenousTikTok Visionary Voices list highlights nine Indigenous creators using TikTok to educate, entertain and advocate for the Indigenous community; sharing their stories in their own voices.
Creators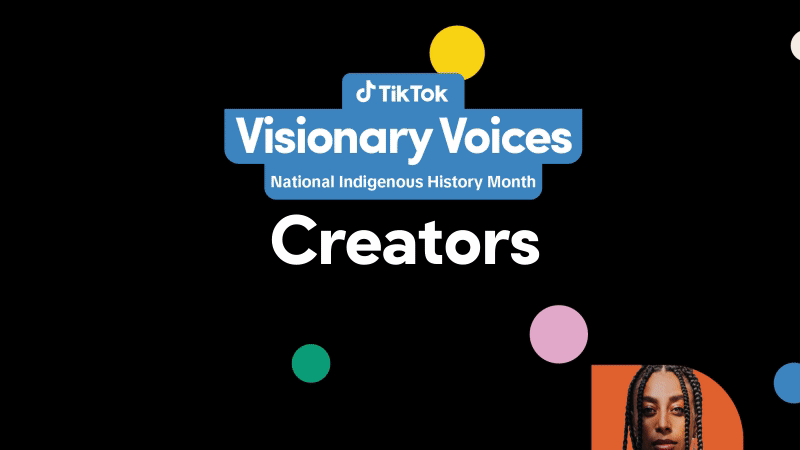 @aichella (she/her) | Wendat from Wendake | Wendake, QC - Aïcha Bastien-N'Diaye is a multidisciplinary artist and content creator. Wendat and of Guinean descent, Aïcha is using her intersectional voice to inspire her communities through her TikTok content and on stage. Aïcha uses dance as a medium of change and innovation. Among her performance accomplishments, she has exhibited one of her works, "Dance Your Anxiety Away," in a Slow Factory installation at MoMA PS1 and is also the co-founder of Le Feu Studio, a production company that seeks to change the world, one video at a time.
@notoriouscree (he/him) | Tallcree First Nation | Edmonton, AB - James Jones is a Nêhiyaw (Cree) activist, performer and speaker from Tall Cree First Nation in traditional Treaty 8 Territory in northern Alberta. On TikTok, James uses his platform to educate and spread awareness on the issues impacting Indigenous communities across the globe. As a traditional hoop and powwow dancer, performance artist, youth workshop facilitator and public speaker, James advocates to inspire future generations by reclaiming his culture and encouraging others to do the same.
@willow.allen (she/her) | Inuvialuit | Saskatoon, SK - Willow Allen is an Indigenous model born in Inuvik, Northwest Territories in a remote Arctic community of approximately 3,500 people. Willow has quickly risen to be one of Canada's most on-demand models and was the winner of the 2022 CAFA Fresh Face of the Year Award. In addition to modeling, Willow works in mental health and social services and is studying social work at the University of Manitoba. Whether it's sharing traditional Inuit cultural practices on TikTok or speaking to international media about the power of Indigenous women, Willow never misses an opportunity to create change.
Industry Disruptors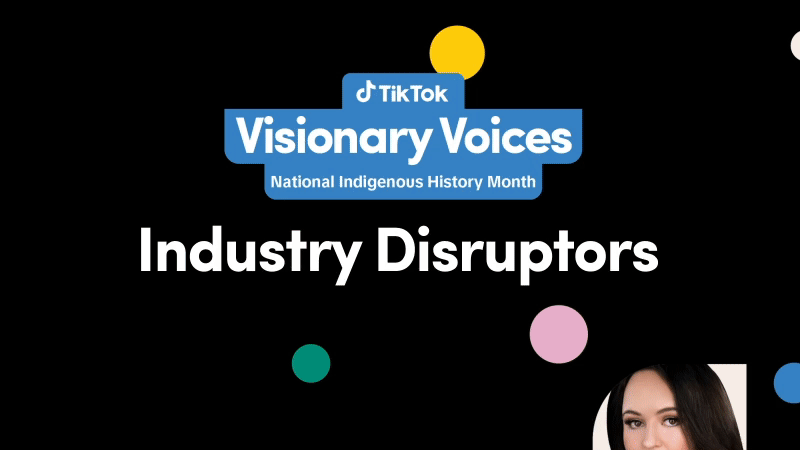 @cheekbonebeauty (she/her) | Anishinaabe - Northwest Angle #33 First Nation | St. Catharines, ON - Jenn Harper is an Anishinaabe woman from Northwest Angle #33, speaker, and the Founder & CEO of Cheekbone Beauty. Jenn's been making a name for herself in the beauty industry for a number of years but quickly gained popularity after appearing on CBC's Dragon's Den in 2019. Her company, Cheekbone Beauty, has brought clean, vegan, cruelty free, sustainability-minded makeup products rooted in her rich, vibrant Indigenous culture to TikTok - and into the mainstream.
@melissas.bookshelf (she/her) | Anishinaabe (Ojibwe) | Ottawa, ON - Melissa Blair is a #BookTok content creator and author from Canada. As an Anishinaabe-kwe she shares books by Indigenous authors from all over Turtle Island—as well as other diverse stories. In her own books, Blair explores themes of colonialism, identity, cultural revitalization and Indigenous sovereignty, driving forward the visibility of Indigenous fiction.
@ohkairyn (he/him) | Nakota Sioux (Paul Band/Alexis Nakota Sioux Nation) | Toronto, ON - Kairyn Potts is proudly Nakota Sioux from Treaty 6 Territory (Paul Band FN and the Alexis Nakota Sioux Nation), now making his home in Tkaronto. Kai is a proud Two-Spirit person and creator, who is a passionate advocate working to improve Indigenous youth's lives through public speaking, content creation and community events, and was named to TikTok's Discover List in 2022 under the Changemaker category. Through his creative content on TikTok, Kai shares his voice, culture, makeup, style, love for gaming and humour. Kai also co-founded the Indigenous gaming organization Neechi Clan in 2022.
Small Business Owners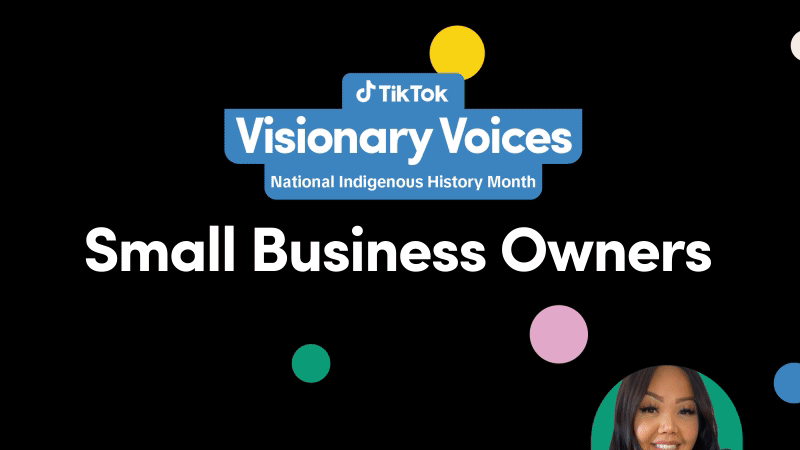 @4generationscreations (she/her) | Secwepemc Nation (Tk'emlúps Indian Band) | Kamloops, BC - Ashley Michel is a Secwepemc creator from Tk'emlúps Indian Band. She is a self taught seamstress, artist and entrepreneur. On TikTok, she creates Ribbon Skirt/Regalia tutorials and shares her own personal story where she aims to educate others about Indigenous issues and resiliency through art. Sharing her content on TikTok has allowed Ashley to reach customers around the world.
@indigenousboxinc (she/her) | Saddle Lake Cree Nation | Edmonton, AB - Mallory Yawnghwe comes from Saddle Lake Cree Nation #125 in Treaty Six Territory. As the founder and Chief Executive Officer of Indigenous Box Inc, Mallory shares a behind the scenes look at entrepreneurship on TikTok. A lifelong helper, she is on a mission to tell the world about the rapid resurgence of Indigenous business and to take up space for those who will come after. Her passion, drive, integrity and commitment to life-long learning have helped her catapult Indigenous Box from a $5,000 seed investment into a multi-million dollar company in less than two years.
@scottwabano (they/he/she) | Cree Nation of Waskaganish | Montreal, QC - A 2Spirit EEYOU Cree from the Mushkegowuk and Eeyou Istchee territory, Scott Wabano owns the genderless streetwear brand 'WABANO', which they use to educate society about sustainability in fashion and the various Indigenous 2SLGBTQ+ identities around the world. Scott uses their platform to advocate for Indigenous and 2SLGBTQ+ youth, often incorporating traditional storytelling with modern concepts on TikTok, showcasing the beauty and unique lives of Indigenous and IndigiQueer peoples, driven to remind them of the power of their identity and that their existence, stories and voices matter.
#IndigenousTikTok Programming & In-App Hub
From performers, powwow dancers and artists to makers, style icons, oral storytellers and writers, the Indigenous community on TikTok share their rich culture and traditions across our global platform - and we are committed to amplifying their contributions. Throughout June, our #IndigenousTikTok in-app programming hub will spotlight creators and organizations that demonstrate the rich cultural heritage, creativity, impact and ongoing activism of the community. Check out the #IndigenousTikTok hashtag or @tiktokcanada for more!
We recognize the power of being able to tell your own stories, and are honoured that so many Indigenous creators, artists and small business owners come to TikTok to reclaim their identities, educate, advocate and inspire. We're committed to being a safe, inclusive platform for creators to tell their stories.