We're proud to be a launchpad for Canadian artists who find global fanbases, jumpstart their careers and share their voices on TikTok. Today, TikTok has become an integral component of the Canadian music industry and we're honoured to be a trusted partner that helps artists find audiences and build careers, which is why we're excited to announce our continued participation in The 2023 JUNO Awards and partnership with the Canadian Academy of Recording Artists and Sciences (CARAS).
For the third year in a row, we're returning as a Lead Sponsor of the JUNOS and title sponsor of TikTok JUNO Fan Choice, including being the official voting platform for the award. TikTok JUNO Fan Choice is the sole fan-voted award category, where Canadian music fans will select the winner.
This year, TikTok JUNO Fan Choice includes 10 contenders, with six first-time nominees in the category and Canadian icons like Avril Lavigne, as well as Shawn Mendes and The Weeknd, both nominated in this category for the eighth year in a row.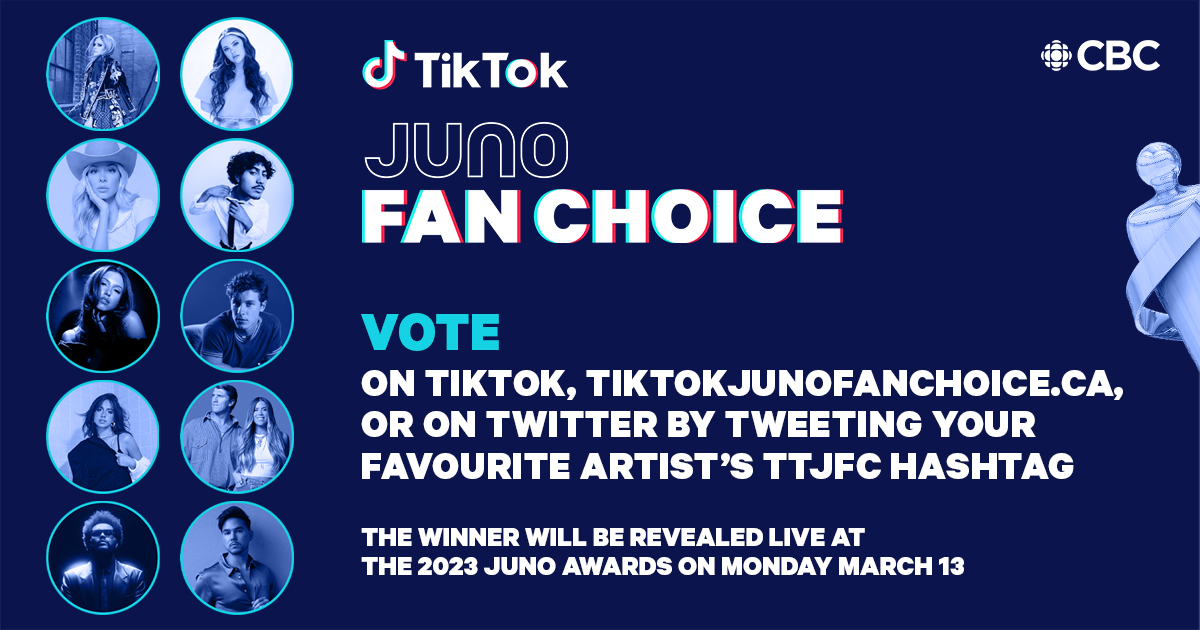 The nominees for 2023 TikTok JUNO Fan Choice are…
With both new and returning voices, the 2023 TikTok JUNO Fan Choice nominees are a true celebration of the breadth and depth of Canadian artistry. These nominees provided the soundtracks to our year, cemented themselves as household names and reached ever-bigger global audiences - with "Fingers Crossed," Lauren Spencer-Smith got everyone in their feelings on TikTok, generating over 500 million views before she'd even released her first album; and with his viral rendition of GAYLE's hit "abcdefu," Tyler Shaw's "Love You Still (abcdefu Romantic Version)," has over 2.5 billion views of videos using the song on TikTok. Here's the full list of nominees for the 2023 TikTok JUNO Fan Choice:
Voting for #TikTokJUNOFanChoice is now open on TikTok and at TikTokJUNOFanChoice.ca and closes March 13, 2023 at 9 pm ET, so head there to vote for your favourite artist. There are no limits to the number of times people can vote, so fans are encouraged to vote weekly, daily or even hourly.
The winner of TikTok JUNO Fan Choice will be revealed at The 2023 JUNO Awards on Monday, March 13, broadcast and streamed from Edmonton, live across Canada at 8 pm ET/6 pm MT on CBC TV, CBC Gem, CBC Radio One, CBC Music, CBC Listen and globally at CBCMusic.ca/junos.