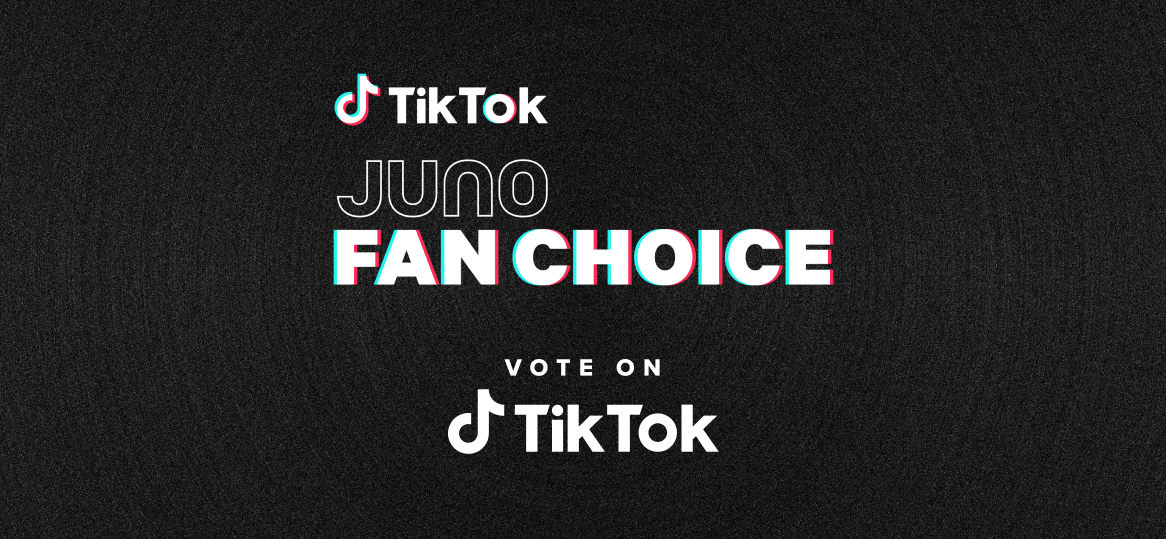 Music is an integral part of TikTok and we're proud to be a launchpad for Canadian artists to grow their careers, find a global fanbase and express their creativity. TikTok is a vital component of the Canadian music industry and being a trusted partner that supports artists in their careers is a priority, which is why we're excited to announce our continued partnership with the Canadian Academy of Recording Arts and Sciences (CARAS) and participation in the 2022 JUNO Awards.
This year we're returning as a Lead Sponsor of the JUNO Awards, as well as the title sponsor of TikTok JUNO Fan Choice and official voting platform. TikTok JUNO Fan Choice is the only fan-voted award at the JUNOS, and winners are chosen by Canadian music fans. This year there are five first-time nominees plus Shawn Mendes and The Weeknd, who are nominated in the category for the seventh year in a row.
We decided to announce the nominees a little differently, and tapped MuchMusic to help. Teddy Tong (@tedddles) and Kwesi Kwarko-Fosu (@kwedawg) - part of the new generation of MuchMusic VJs - took to the @much account to announce the 2022 nominees for JUNO Fan Choice via a piñata-smashing session. Since the brand's relaunch on July 7, MuchMusic has amassed more than 1.3M followers on TikTok, thanks to their engaging content, pop culture hot takes and exclusive interviews.
Voting is now open on TikTok and at junofanchoice.ca, and closes at 9 pm ET on May 15, 2022. Head to the Discover page in-app and click the TikTok JUNO Fan Choice banner to vote for your favourite artist - there are no limits to the number of times people can vote, so fans are encouraged to vote weekly, hourly or even daily.
And here are the nominees for TikTok JUNO Fan Choice...
Both new and established artists and music creators are breaking through on TikTok in ways never seen before. Many of the below nominees have become household names on the platform, taking their careers to new heights: JESSIA's I'm Not Pretty started out as as an intimate riff in her car and has now become certified Platinum, Loud Luxury's fist-pump worthy DJ sets have generated over 120M video views, and bbno$'s custom in-app Animal Run effect for edamame has been used by our global community in over 200K videos ( edamame itself has been used in nearly 600K videos).
With a collective 265M global streams to date, Vancouver pop songstress JESSIA is taking the industry by storm, capturing the attention of social media fans and notable artists in 2021 including Grammy Award-winning singer, songwriter, and producer Ryan Tedder who signed her to Artist Driven Records in partnership with Republic Records. Her debut single, "I'm not Pretty" exploded on TikTok, with JESSIA introducing the song via an acapella hook, racking up millions of views in a single day and catching the attention of singer, songwriter, and producer elijah woods and later, Grammy-Award nominated artist Bebe Rexha who joined the remix.
Amassing over 272M combined global career streams and attracting acclaim from Harper's BAZAAR, The FADER, NYLON, PAPER, W Magazine, Interview, and more, Charlotte Cardin takes flight out of flames on her gold certified debut album Phoenix. Released in April 2021, Phoenix has made Cardin the first Canadian female artist to spend multiple weeks at #1 on top Billboard since Céline Dion in September 2016.
Growing up in Cambridge, Ontario, 347aidan had what most would call a "normal" childhood, music entered and impacted his life early on. "I started playing the piano when I was five," the now 18-year-old says. Aidan, an advocate for mental health was diagnosed with ADHD as a youth, rather than being subdued to medication Aidan wanted to channel this energy into his passion…music. Aidan began recording tracks in his bedroom and uploading them to SoundCloud, whre he instantly found a unique fanbase. Following 347aidan's R.I.A.A certified Gold song "DANCING IN MY ROOM," he released "MEMORIES!" which has accumulated over 23M streams to date.
bbno$ (pronounced "baby no money") is a rock star permeating multiple facets of popular culture. The 3-time JUNO Award nominated Vancouver rapper with over 2.7B streams of found major success with the release of "Lalala" - a collaboration with Y2K that has over 900M worldwide streams and landed him in the top 100 most listened artists in the world of any genre on Spotify. The viral hit "edamame" featuring Rich Brian found viral fame on TikTok and is currently charting around the world on radio and streaming services. The single and accompanying hilarious video are on track to deliver bbno$ even greater success.
Jesse-James Cameron, better known as Forest Blakk was born in Montreal where he first got into music as a escape from his home life. At age 15, he began exploring his musical side by learning to play a guitar given to him by his grandmother. Soon after moving to Calgary at age 21, he formed a band that later earned a JUNO nomination. One of the first songs embodying that sound, "Love Me" earned attention from heavyweights like Pete Ganbarg (president of A&R at Atlantic Records) and legendary music exec Seymour Stein, paving the way for Blakk's signing to Atlantic in 2015.
With their worldwide smash hit "Body" (feat. Brando), Loud Luxury — Canadian duo Andrew Fedyk and Joe De Pace — is certified Diamond (10x Platinum) in Canada, multi-Platinum in Australia, Switzerland, Austria, Denmark, U.K. and the U.S., and Platinum in the Netherlands, Norway and Sweden. Its follow-up, "Love No More with anders, sits at over 150M streams on Spotify, while "I'm Not Alright with Bryce Vine adds to the tally with over 90M. Loud Luxury scooped up three 2020 JUNO Awards nominations for 'Dance Recording Of The Year,' 'Fan Choice Award' and 'Group Of The Year' (including one win) following four nominations (including one win) in 2019. In 2021, the pair released their second EP Holiday Hills highlighting collaborations with Cat Dealers, Drew Love and Thutmose.
Global superstar Justin Bieber reached #1 on the Billboard Hot 100 for the second time in eight months with his smash collaboration with The Kid Laroi, "Stay." Justin's eighth career #1 single, "Stay" has made history as Bieber becomes the youngest solo artist ever to reach 100 hits on the chart. Bieber made history as the first male solo artist to debut at #1 on both the Billboard 200 album chart and Billboard Hot 100 singles chart. With over 75B career streams and over 70M albums sold worldwide, Justin reigns as one of the biggest artists in the world. Bieber is the #1 artist on YouTube with over 60 million subscribers worldwide and is the #1 artist on Spotify global with over 75M monthly listeners.
Since his introduction to the music industry in 2017 Pressa's rapidly increasing fanbase has been hailed by industry tastemakers, landing him on tour with Drake and leading to collaborations with superstars such as Lil Uzi Vert, Murda Beatz, GoldLink, Drakeo The Ruler and Shy Glizzy. Pressa has pumped out megahits such as the Platinum Certified "Attachments" and the highly anticipated Gardner Express Deluxe which included multiple gold certified tracks including "Blackberry Zap". With all these achievements, Pressa continues to grow his collective ever-growing 156M North American streams, multiple certified hits and a massive 64M streams of his recently released EP Gardner Express alone.
GRAMMY nominated Toronto born multi-platinum singer/songwriter Shawn Mendes released his highly anticipated 4th studio album, Wonder, in 2020 to rave reviews. The album debuted as #1 on the Billboard 200 Chart and in multiple worldwide markets, marking Shawn's fourth straight #1 album. In 2018 he released his self-titled platinum album, which debuted at #1 on the Billboard 200 Chart as well as multiple worldwide markets. The album became one of the top best-selling album debuts of 2018 and made Shawn the third youngest solo artist to ever have three consecutive #1 albums. On his last world tour, he sold out his first ever stadium show in minutes at Rogers Centre in his hometown of Toronto.
The Weeknd took over pop music & culture on his own terms filtering R&B, Pop, & hip-hop through an ambitious widescreen lens. The multi-platinum 3X GRAMMY Award winner has emerged as one of the most successful & significant artists of the modern era.
The winner of TikTok JUNO Fan Choice will be revealed at The 2022 JUNO Awards on Sunday, May 15, broadcast and streamed live across Canada at 8 p.m. ET/5 p.m. PT on CBC TV, CBC Gem, CBC Radio One, CBC Music, CBC Listen, and globally at CBCMusic.ca/junos.