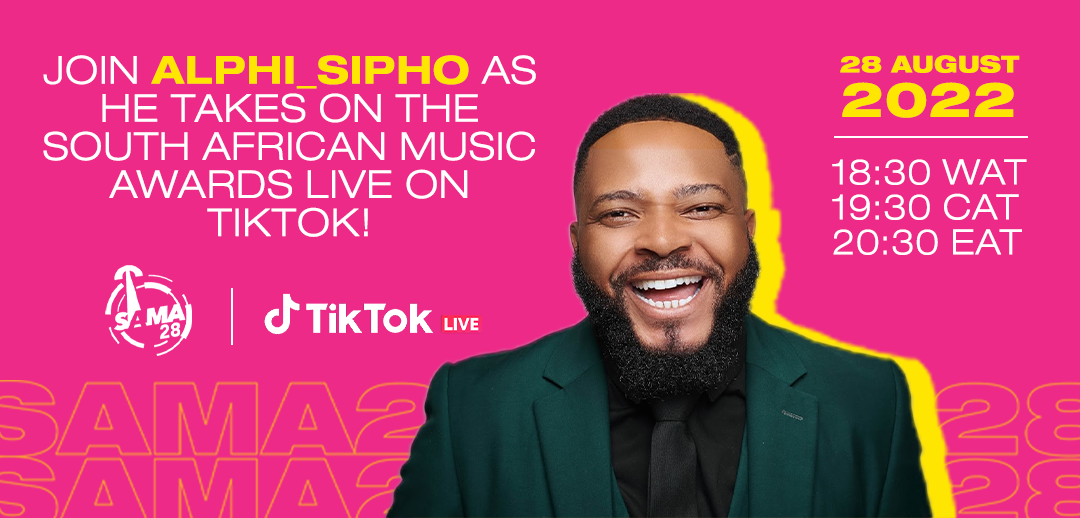 At TikTok, we love to see our creators grow in leaps and bounds. The long-awaited South African Music Awards are around the corner, and the 28th edition comes with some exciting additions. One of which is the announcement that TikTok sensation, Alphi Sipho Mkhwanazi, will be the first South African TikTok creator to hold down the red carpet and behind-the-scenes proceedings for the night, all while being streamed LIVE on TikTok.
As this will be a night for all to remember, we're calling on the community to join us as we catch this first-of-its-kind ceremony directly from the @thesamas_ TikTok page on the 28th of August at from 20:00 - 22:30. In true Alphi_Sipho style, the broadcast will be full of hilarious punch lines and intriguing chats with red-carpet guests as he gathers category winners' predictions for both evenings. That's not all! Viewers can also expect to see the carpet's most fabulous fashion moments and backstage reactions.
Mkhwanazi, a comedian and emcee, garnered his significant following, which sits at over 420 thousand on TikTok, after sharing his compelling lived experiences. When asked about this prestigious gig, Mkhwanazi said: "through hard work and consistency, there is a great reward indeed. It is an honour for me to have the opportunity where I get to put a smile on a few more faces. I am looking forward to bringing viewers all the action from the night, and I hope everyone enjoys having me as their host."
RiSA CEO Nhlanhla Sibisi added that: "We are gearing up for an impeccable production. We have sought the highest calibre of hosts and performers to provide viewers with an unforgettable celebration of music industry's finest. The date is set for 28 August 2022, and we look forward to celebrating musical excellence alongside the fans."
In case you thought things couldn't get better - we're pleased to let you know that Alphi Sipho won't be rolling solo. Joining him on the night is Lawrence Maleka and Nandi Madida who will share the main awards stage, while Mpho Popps and Robot Boii will steer the first night's technical awards. All the action can be caught on SABC1.
This exciting, Alphi-shaped news comes after we recently announced our finalists for the inaugural 'TikTok Viral Song of the Year' category - one that seeks to acknowledge local songs and artists dominating South African entertainment platforms. As we cross our fingers and toes for all the talented nominees, we want you to know we will never leave you behind - be sure to interact with us on the LIVE and also join in on the conversation using #SAMA28 – see you there!